Handmade menorah made of intertwined branches. A real statement piece by Sekoya Originals. Holds eight 1/2" beeswax candles (included).
These candle holders are made of iron, twisted and molded by hand into elegant, graceful designs that speak of fine craftsmanship. Heavy, sturdy iron is often accented or simply molded into exquisite, creative works of art. The timeless elegance of these pieces make them a favorite gift for weddings, anniversaries, house-warmings, to mark any major milestone.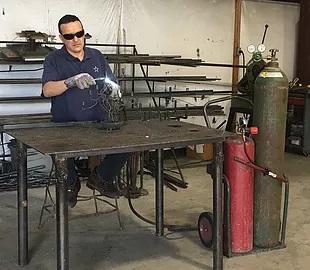 Luis Marquez creates each piece by hand at his studio in Pflugerville, Texas. Each design is inspired by nature, brought to life with superior craftsmanship.
Born in Colombia in 1967, Luis discovered the passion for sculpting with his hands after working with different artists for many years, learning various techniques such as melting and shaping iron and fusing glass. He continues to develop his skill by immersing himself in the art world, constantly stretching his mind by working with talented artists and designers in order to create new and exciting pieces.
Hand-forged, hand-bent iron comes to life with recycled glass fused in Luis's kiln to create organic functional art pieces with clean lines that will be enjoyed for a lifetime. His exquisite candle holders feature special touches such as eclectic beads from Africa and colorful Tagua seeds from Colombia, topped with pure beeswax candles, making them the perfect gift for any occasion. Lamps are made with natural materials such as hammered copper, and slate or fused glass; and lampshades are made of beautiful handmade paper by his wife, Loren. He incorporates whimsical touches such as little nests, or pebbles, to perfectly complete his pieces.
The passion that Luis Marquez has for his craft translates to beautiful handmade pieces that are sure to be the subject of countless conversations, and the focal point of every room. Thank you for buying handmade!

Hanukah Hanukkah Chanukah