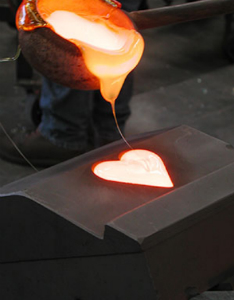 Bold colors and rich texture impart a simple elegance that compliments virtually any dining decor. The Fire & Light dinner plate is one of our best sellers and the cornerstone of the Fire & Light collection. Create an eye-catching table by mixing colors of dinner plates, salad plates, and small bowls. Watch the colors change as you stack one on top of another. HAVE FUN. That's what makes colored glass dinnerware so cool. Handmade in the USA.
class="sans our-story">
Fire & Light colored glassware is a product whose history is a kind of future, where age-old craftsmanship meets innovative manufacturing, utilizing post consumer glass as a resource. But it's the beauty that will get you, the twinkle of light on the surface of a watery blue bowl, and the knowledge that we get as much happiness out of making the colored glass bowl as you will from having it on your table.