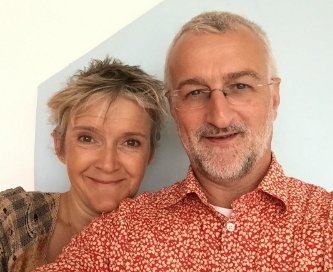 Hand silk-screened with an original design that covers the the entire surface of the silk/cotton blend fabric, like a canvas or painting. These designs have a lithographic hand drawn quality with an unsymmetrical pattern we cheerful name after our favorite planets and moons. The collection is aptly named cosmos and mars. Cosmos has a natural playful grid, with a lithographic line and a sense of randomness. Mars has a long brush line that divides the space into a positive and negative landscape. Very musical.Individually silk-screened in Kathmandu Nepal, our scarves are woven in two variations a 100% merino version and a 60% cashmere 40% merino blend. Both variations allow the design to show though both sides.
Details
66
" L x 22" W (168 cm x 60 cm)
100% merino. Each collection will have its own character and unique characteristics. We suggested care is dry clean only.Susy Pilgrim Waters and Keith Waters are partners in PilgrimWaters. Together, they create and manufacture a line of practical, beautiful products. Born and raised in Great Britain and now based in Boston, Keith and Susy's range of home and apparel products draw on their professional backgrounds. Susy is an award winning illustrator and Keith pioneered software in computer graphics. Their experience informs a modern, handcrafted aesthetic with expert fabrication of products crafted in the USA as well as overseas in Nepal and India. Functionality is key to PilgrimWaters – with color, natural materials and graphic elements coming together in products such as these elegant scarves.