Deceivingly simple, the Aurora Wall Hanging in polished brass features geometric shapes that capture and reflect light in the most beautiful way. This wall hanging would be a lovely addition to any modern home, it can be styled in a group of other wall hangings or stand alone.
Handcrafted at the Circle and Line studio in Austin, Texas.
Dimensions: 25" H x 6" W
Weight: 1 lb
Materials: Each brass component is meticulously sanded, buffed, and polished and then finished with a durable lacquer to preserve the warm glow of the brass.
Installation + Care: Hang from a nail or hook. Intended for indoor use. Exposure to the elements will cause the natural patina process to accelerate. Wipe with a dry cloth.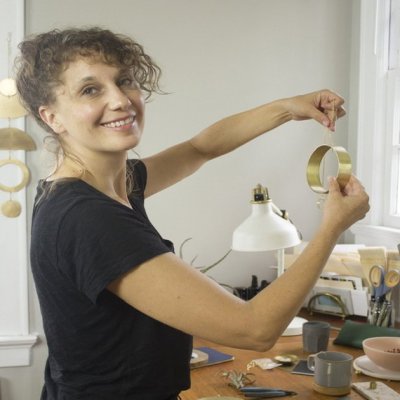 Circle + Line is an Austin-based design studio that produces elegant, singular home goods. They believe that artful objects are also meaningful and that the role of each of our pieces is to reflect and elevate the aesthetics of any space. Corie Humble, our designer and founder, loves to pare her design process down to the most essential elements, to play with execution while remaining committed to the integrity of each piece. There are no gimmicks, no tricks, just beautiful objects suspended in space. The result is a breathtaking blend that elicits wonder and surprise.