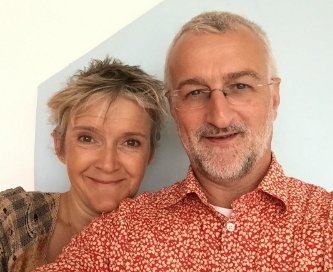 Hand silk-screened with an original design that covers the the entire surface of the silk/cotton blend fabric, like a canvas or painting. The Inky Scout design - independent, structured, based on torn paper and blunt cuts in blue and black . Unapologetically bold and irrepressibly feminine. The cotton/silk blend was carefully selected for it's weight and feel. Each scarf is individually hand silk screened in India.
Details 70% cotton 30% silk, 55 grams in a plain weave. A blend of natural fibers with an urban silk sheen. As each fabric is hand printed by artisans with their own unique characteristics and print anomalies. Recommended gentle wash and air dry.
Susy Pilgrim Waters and Keith Waters are partners in PilgrimWaters. Together, they create and manufacture a line of practical, beautiful products. Born and raised in Great Britain and now based in Boston, Keith and Susy's range of home and apparel products draw on their professional backgrounds. Susy is an award winning illustrator and Keith pioneered software in computer graphics. Their experience informs a modern, handcrafted aesthetic with expert fabrication of products crafted in the USA as well as overseas in Nepal and India. Functionality is key to PilgrimWaters – with color, natural materials and graphic elements coming together in products such as these elegant scarves.