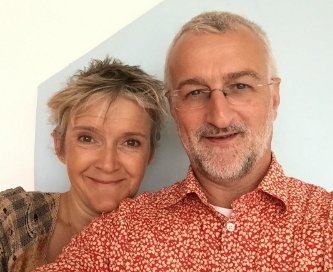 Imagine yourself lying on a sun-kissed rock, looking up through lush leaves - is it the Mediterranean sea or the azure sky beyond? You have escaped. ~ enjoy your holiday.
Hand silk-screened with an original design that covers the the entire surface of the silk/cotton blend fabric, like a canvas or painting. Dyed in small batches and silk screened in India, deliciously soft the fine weave allows the print to show through both sides.
Details 82" L x 30" W (208 cm x 76 cm) 60% cashmere 40% merino blend. Each dye lot will have its own unique characteristics. We suggest dry clean only.
Susy Pilgrim Waters and Keith Waters are partners in PilgrimWaters. Together, they create and manufacture a line of practical, beautiful products. Born and raised in Great Britain and now based in Boston, Keith and Susy's range of home and apparel products draw on their professional backgrounds. Susy is an award winning illustrator and Keith pioneered software in computer graphics. Their experience informs a modern, handcrafted aesthetic with expert fabrication of products crafted in the USA as well as overseas in Nepal and India. Functionality is key to PilgrimWaters – with color, natural materials and graphic elements coming together in products such as these elegant scarves.