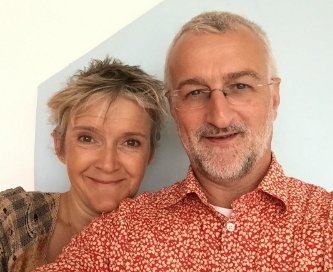 Hand silk-screened with an original design that covers the the entire surface of the silk/cotton blend fabric, like a canvas or painting. Boulder is a respectful nod to esteemed British artist Barbra Hepworth, a love for well worn river pebbles and rocks. A personal passion for color play on a divine large functional scale. These are soft luxurious scarves. They are season-less wraps perfect for cool summer evenings adding warmth and stylish layer for your neck and shoulders, either over or under a coat in the cooler months.Individually handwoven and hand silk screened in Kathmandu Nepal, these scarves are wonderfully soft and warm to the touch. The fine weave allows the color to show through both sides a cloud against your skin.
Details
80" L x 28" W (203 cm x 71 cm)
100% merino wool. Each collection will have its own character and unique characteristics. We suggested care is dry clean only.Susy Pilgrim Waters and Keith Waters are partners in PilgrimWaters. Together, they create and manufacture a line of practical, beautiful products. Born and raised in Great Britain and now based in Boston, Keith and Susy's range of home and apparel products draw on their professional backgrounds. Susy is an award winning illustrator and Keith pioneered software in computer graphics. Their experience informs a modern, handcrafted aesthetic with expert fabrication of products crafted in the USA as well as overseas in Nepal and India. Functionality is key to PilgrimWaters – with color, natural materials and graphic elements coming together in products such as these elegant scarves.