Skip Navigation
Website Accessibility
Chicory Kitchen Towel in Slate
by June & December
Manufacturer #:
FSWB110
Slate Woodblock Chicory design is individually screen printed featuring an all-over pattern covering most of the towel. Printed on flour sack cotton this towel is uniquely soft absorbent
"and"
durable. Plus it?s safe to bleach allowing it to hold up in t
$17.60
Forest Finds Kitchen Towel
by June & December
Manufacturer #:
FSWP135
This Fronds design celebrates the elegance of these wild pretties. Simple yet complex dainty yet bold each unique frond reminds us that sometimes it's beautiful to be wild. Screen printed on flour sack cotton to preserve its uniquely soft absorben
$17.60
June Bug Baby Socks Set of 5
by Solmate Socks
These wonderful Baby Socks are miss-matched with love
"and"
come in sets of 5: 2 pair & a spare! Colors in "June Bug" are forest green bamboo green burgundy turquoise. They are always the perfect gift. Bright
"and"
cheerful but practical
"and"
so comfy!
$22.40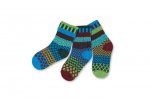 June Bug Kids Socks Set of 3
by Solmate Socks
Solmate Socks was started in the year 2000 by Marianne Wakerlin with the simple idea that Lifes too short for matching socks.
$19.20
Silver and Leather Cord
by Rio Grande
Manufacturer #:
62737118
Create a personalized design with this black leather cord necklace that makes interchanging beads
"and"
charms a snap. The easy-on/easy-off threaded end cap allows customers to add or remove beads, charms
$27.20
Aventurine and Silver Earrings
by Elaine B. Jewelry
Manufacturer #:
E928SS
Aventurine post earrings. The simple beauty of this natural stone's color shines through. Sterling silver setting
"and"
posts. By Elaine B Jewelry.
$62.40
Acorn and Oak Necklace
by Silver Seasons
Manufacturer #:
7555BZBP
Add a little flair to your holiday outfit this season with the acorn
"and"
oak necklace made of cast bronze, with a patined finish. Accented with a freshwater pearl.
$102.40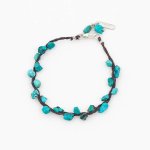 Linen and Turquoise Bracelet
by Altiplano
Manufacturer #:
JBR095
The linen
"and"
turquoise bracelet combines modern style with ancient tradition. These beautiful bracelets are h
"and"
crafted from waxed linen
"and"
rich turquoise stones. Each bracelet is adjustable in length with the sterling plated lobster claw clasp.
$22.40
Coffee and Tea Painting Kit
by Solstice Handmade
If you're searching for a new creative hobby to keep your h
"and"
s busy, this kit is made for you. You'll learn about how to paint using the natural colors of common household beverages, coffee
"and"
tea. It's very similar to using watercolor!
$40.00